The word "healthcare" sets off a variety of thoughts, images, politics, decisions, and more for just about everyone these days. Healthcare is a vital aspect of society that seems to call for a complex approach to take into account the needs of an individual for support at each step of human development. But does it need to be so complicated?
My opinion on the issue is that we ought to take personal responsibility of our health. All of us have the power to "occupy ourselves" through making good choices every day, instead of looking towards the government or other people to hold our hand or take blame for our problems. This is a simple idea and something I have spoken on for many years, but I believe it needs to be more seriously considered as a part of a healthcare solution.
My motto is Health-Care is Self-Care. Our best bet is to look to the wisdom of our past and choose to be healthy through a healthy lifestyle. Let's explore two important areas of interest that factor into health creation: longevity and disease prevention. This will hopefully help illustrate this point with practical applications for everyday life as well.
A Fresh Perspective on Longevity
Longevity is also a very controversial topic and something which I believe is often misunderstood. So many sources contradict each other when discussing what we ought to focus on to live healthy and into old age, so here is a down-to-earth take on staying well for the long run and getting the most out of your time and energy.
First off, it is my opinion that the importance of genetics is way exaggerated in modern Western society, especially on the topic of longevity. So many people these days hold to the idea that a code of As, Ts, Cs and Gs holds their predetermined fate and decides their level of health. All I can say is, good luck to you!
Yes, it's true that genetics have an effect on things like early development, appearance, bodily tendencies and how things work precisely within your unique self. But what's more relevant to the average person is an understanding of the responsibility we have in creating good health and activating those longevity genes through lifestyle (diet, exercise, personal care, etc).
Rather than getting caught up in uncontrollable worries like our genes, always remember that you are responsible for your own actions and, if you are reading this, you are not doomed to a short life or very bad health simply because of the genetics you inherited. It is time to switch our focus away from the computer screens and data tables and more to our own daily choices.
Just because the scope of medical knowledge is larger than it was years ago does not mean we are automatically better off in health. While there have been notable improvements from the medical community, I wonder, are we just learning more about little minutiae and losing track of the simple wisdom of our ancestors? They seemed to be doing something right.
If you take good care of yourself, good health will be your gift to enjoy. With this in mind, one might wonder why longevity statistics have still improved in general in the Western world as compared to, for example, those of 100 years ago. Why did people die earlier back then? Here are a couple reasons I came up with.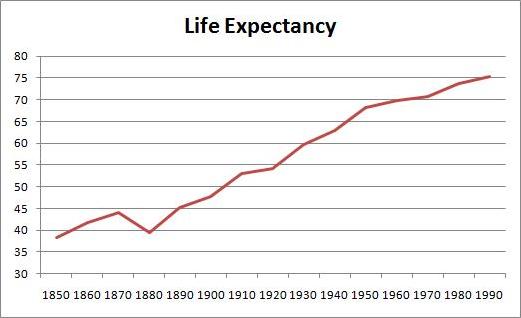 Why Did People Die Earlier Back Then?
First, there were more daily dangers and accidents. While I can certainly not offer first-hand experience on the dynamics of living in the early 20th century, I am sure you can read any source or ask any elderly person about when they were a child, and they'll say that times were rougher than they are now.
There is no doubt that the infrastructural safety standards for everyday tasks such as driving, shopping, outdoor activities, and soon have greatly improved over the years. Combined with better building regulations, materials, and engineering technology, the risk for accidents (one of the largest causes of early adult and child death) has been greatly reduced.
Second, there was a more inconsistent supply of needs. One aspect of modern living that makes us quite fortunate is the availability of basic needs like food, shelter, clothing, education, and other human services. (Taking a minute to give thanks for how fortunate we are knowing that not all people have these things.)
And in addition to this, we've seen an overall decrease in poverty-like conditions in the Western world since 1900 as our example year. Even the average middle-class citizen did not have the availability and variety of healthy foods like fruits and vegetables or other local farm-fresh products consistently. Daily needs which ensure a long, healthy life were, in general, just not as widely ensured back then.
Third, life standards or value of life has increased. All in all, those who live in developed society are in a good position to live a long time on this planet. Today more than ever we value the lives of others on the whole and do not see the average person rabidly raging around town killing people with knives, or on a lighter note, have to do dangerous or very arduous tasks that will potentially severely decrease someone's life span.
So what's the bigger picture? I want inspire people to be their own doctors, and take some time to think things over and invest in their health. By making good diet and lifestyle choices (such as eating a diet of whole natural foods and getting enough exercise, sunshine and social support), we can enjoy happy, productive, long lives together.
Disease Prevention
Let's continue with our idea of healthful living in the context of disease prevention, which is an important part of longevity for humans. If we focus on the idea that health comes from healthful living, we can turn this statement around and conclude that disease must then come from unhealthful living (in most cases).
Disease is a tricky thing, but even if we can't pinpoint the exact causes of someone's condition, we can still accelerate the healing process by giving health-promoting conditions to the body. We must free ourselves from the powerless "victim" approach to sickness and begin right away to not only stop causing a disease but also start causing health.
To illustrate this concept with an example, let's take a look at a minor health problem that many people suffer with: indigestion. What should we do? We'll examine two ways that are most commonly used to handle the situation, and then move forward and summarize another approach that can help you solve this problem and others on your own.
The medical model would approach the issue of indigestion something like this: You are experiencing discomfort in the form of gas, bloating, and constipation. How can we alleviate these symptoms? It's simple. Just take one of these laxatives with breakfast each morning and it should help do the trick in no time. Not your style? Those who go au naturale would most likely opposed to this method.
Alright, so the naturopathic model would go something like this: You are experiencing discomfort in the form of gas, bloating and constipation. How can we alleviate these symptoms? It's simple. Ginger is a natural laxative that will help ease your digestion without artificial ingredients. Add some in with breakfast each morning and it should help do the trick in no time. Maybe a little better, but I'm still not so sure it's the best route to take.
Why? Because although the means is different, the method is the same. Strictly speaking, when you compare Western medicine to natural medicine, there isn't as much of a difference as one would think. Bottom line is that medicine sees disease as symptoms. With tests and studies, they may aim to explain the problem, but really what they're answering is how, not why.
Both methods above strive to attack and suppress individual aspects of sickness isolated one by one. But in aligning ourselves with nature's workings, we must consider the whole picture to establish wellness. Fragmented thinking will only manage disease because it fails to remove the root cause and stop the problem at its source.
I recognize and applaud the fact that many schools of holistic medicine are now better understanding the importance of prevention of disease through lifestyle habits. However, their ongoing attempt to find new ways to medicate problems once they already exist is what most strikingly parallels conventional practices.
If you think about it, what is prevention? Prevention is lifestyle practice that seeks to maintain good health. However, in medical systems, what is said you need to get healthy is different than what you need to stay healthy.
For example: Take this herb if you're sick, but don't if you're healthy, it won't do anything. Or even worse: Take this pill if you're sick, but don't if you're healthy, it may be harmful.
But I wonder, how does the herb know when you're sick? How does the pill know when or if to attack? Examined critically in an average situation, it doesn't make sense. There are no contraindications for living healthfully, because in essence it is always right to do the right thing, and two wrongs won't make a right.
Creating a Health-Promoting Environment
Let's place emphasis disease prevention, but also apply these same healthful practices if disease alleviation is needed. In other words, to respect that what you need to stay healthy corresponds with what you need to get healthy. It's the kinds and quantities of the normal, necessary elements of health (food, air, water, sunlight, rest, etc) that are adjusted to the needs of the individual for their specific circumstances.
All in all, in order to create the optimal healing environment, we must keep to what's healthy only. Normal good choices that are specialized to the needs of a person help removes the cause of disease and give the proper conditions to accelerate the healing process without a need to scrutinize over details.
Nature has programmed you to survive and is active inside you constantly. We possess the amazing ability to self-maintain and self-regenerate at a cellular level if given the chance. When we take out the bad and put in the good, the body will usually take over from here.
We are only human, and we make mistakes. Sometimes the body may need a little boost, but you might be pleasantly surprised at how well adapted this machine we're running truly is. We are so brimming with opportunity and potential, so my hope is that we can channel our knowledge of life into building health with intelligent choices that support us, instead of hold us back from where we want to be.
I understand that disease can be a very sensitive thing. This article is a just a start, and I do not intend to oversimplify this issue. Of course, life-threatening situations should undoubtedly take advantage of modern developments, such as in the case of accidents, surgeries, and other emergencies. But honestly, in an average scenario, I am against the use of drugs and conventional medical practices for a few reasons.
Why I Am Generally Against the Use of Drugs
First, most of the time drugs are actually adding to the problem, whether that be adding strain to the body, or just getting in the way of its ability to clean the cell environment. When we are sick, we certainly do not need unnecessary stress, especially in a crisis situation where the body should prioritize energy for healing, not the management of unwanted substances.
And second, even if a drug or practice does what it says it does (for example: thin the blood, kill a certain bacterium, etc), this action almost always doesn't get to the root of the problem, and usually just causes harmful side effects. Adding something that does not culture health to an already existing state of bad health does not make the most sense to me when there are better options. If something doesn't help the body, it simply uses up excess energy that could have gone towards health processes.
To summarize what I mean, here is a quote from one of my favorite thinkers, Thomas Jefferson. He definitely was way ahead of his time: "The doctor of the future will give no medicine, but will interest her or his patients in the care of the human frame, in a proper diet, and in the cause and prevention of disease."
So there we have it.
The take home message here is to own your actions and recognize that you alone are in the driver's seat when it comes to your health. The situation may not always be perfect, but it costs little to nothing to go outside and get your exercise, fresh air, sunshine, social support, or to opt for your fruits and vegetables and a drug-free lifestyle. This is truly what shines through as your keys to bypassing healthcare and disease concerns.
Question of the day: What are your thoughts on healthcare and longevity? How do you work to keep up your health?
Brought to you by Brian Greco
If this article was helpful for you and you like what you see
, please like, share, and comment your thoughts on this post and be sure to subscribe at your right to be the first to know when new articles arrive. Thank you for reading and stay tuned for more!
P.S.
- You can follow me on Twitter @
BrianonHealth
.
P.P.S.
- Need some new easy ideas for fruits and vegetables? Check out my book
here
.